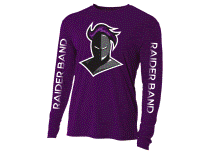 We are THRILLED to announce we have partnered with TMF - the company that produces spirit wear for Texas Marching Classic - for a seamless shopping experience, providing you more choices, the convenience of online payments and shipping items to your home!

Our Spirit Store is currently closed.
We will open again in October 2020.
Stay tuned for announcements and reminders.
---

How It Works
♦ Access the TMF webstore
♦ Choose your purchases, noting size and personalization where applicable
♦ All major credits cards and PayPal are accepted
♦ All applicable taxes are applied to your purchase
♦ Shipping is calculated by weight and starts ~$4, via USPS

*All orders are placed after the webstore closes. It takes ~3-4 weeks to receive your items. Exact production and delivery timelines are managed by TMF, not CRHS Band Boosters.

Don't want to purchase right now? That's okay! We will have another ordering window in October, just in time for Holiday Gifts!

Have suggestions for other products? We have access to more products & options, so send us your feedback by email to our Spirit Wear Coordinator.

Returns Policy
♦ Refunds are not accepted.
♦ Exchanges can be arranged if customer ships item to TMF, at customer's expense. An alternate item will be offered at 50% of the replacement item's cost, plus shipping costs.
♦ Personalized items cannot be returned or exchanged.

Contact Info
Email: info@tmftoursandtravel.com
Phone: 956.984.9468